Welcome to the home of the

FLASH Gameshow Homepage!
MESSAGE FROM THE STAFF
We here at CdC ProductionS would like to take this opportunity to send our condolences out to those who had suffered tragic loss as a result of last Tuesday's terroristic attacks in the United States.

WE WANT TO HEAR FROM YOU!
If you visit the site on a regular basis to play online, or you have downloaded our games onto your computer, drop us a line and let us know how often you visit and from where, and if you've downloaded any of our games to your computer!

We are looking for testimonial letters to submit to companies at a later date.
---
We are pleased to bring all our fellow Game Show Fans the opportunity to play
the famous Bonus Games of game shows gone by, using the latest in FLASH technology!
This is only the beginning, as we are constantly working on new ideas and new games!
Below is a listing of the games we currently offer for your entertainment enjoyment.
We would love to hear from you!
Please feel free to send ideas, suggestions,
bug reports and comments to CdC ProductionS
---
Visit the new MESSAGE BOARD !!
Last Update: JULY 20, 2001
-Last update is an updated version of Classic Concentration!
Please scroll down to the bottom of the page for a letter from us to you!
---
FACE THE DEVIL v1.3
(from THE JOKER'S WILD)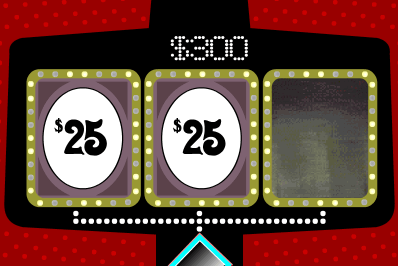 Get ready to play the game where the Joker is King and Lady Luck is Queen!
The object of this game is to spin the reels in order to accumulate $1000, meanwhile trying to avoid the Devil!
If the Devil appears in any of the three windows during a spin, the game is over, and you win nothing.
NEW FOR VERSION 1.3
After being BOMBARDED with great e-mails, WE FINALLY ADDED THE STOP FEATURE!!!
After an overwhelming "This is too easy!" response, we've added more slides of the lower dollar amounts ($25, $50, and $75) to give the game a little more of a risk factor to continue..
PLAY ONLINE! (303 Kb)
DOWNLOAD FOR OFFLINE PLAY - PC (583 Kb)
DOWNLOAD FOR OFFLINE PLAY - Mac (832 Kb)
---
BEAT THE DRAGON v1.0
(from TIC TAC DOUGH)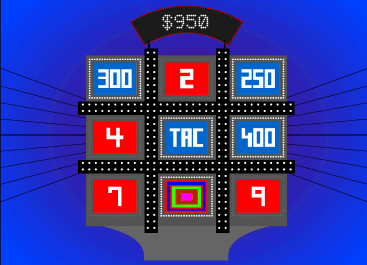 Find the TIC and the TAC and you've got the DOUGH in this famous Wink Martindale show of the 70's!
We've included all the cheesy graphics, along with the funky synth music to make this a truly memorable experience!
Object is to reach $1000 or to find the TIC and TAC before revealing the mean ol' Dragon - because if you find him, he'll take all your money and burn it!
PLAY ONLINE! (683 Kb)
DOWNLOAD FOR OFFLINE PLAY - PC (963 Kb)
DOWNLOAD FOR OFFLINE PLAY - Mac (1.4 Mb)
---
<< CLASSIC CONCENTRATION v2.0 >>
(CAR Bonus Round)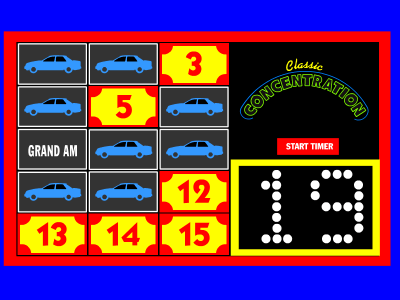 Who could forget the famous rebus game?
We've taken the bonus game from the show
to make it our 3rd installment of FLASHGames!
This game includes an ADJUSTABLE timer for you to challenge yourself and your friends to see who can win with the fastest time!
PLAY ONLINE! (249 Kb)
DOWNLOAD FOR OFFLINE PLAY - PC (529 Kb)
DOWNLOAD FOR OFFLINE PLAY - Mac (768 Kb)
---
FROM the desk of
CdC ProductionS
Hello to our virtual contestants!
First of all, Dan and I would like to thank everyone for their positive and reinforcing e-mails towards our FLASHGames. We are very grateful to everyone for submitting their ideas - it's given us many NEW ideas!
But, on the flipside of the coin, I felt a small desire to say something about the process of producing these games.
Currently the FLASHGames production team consists of TWO people. Much of the time, Dan has been instrumental in the graphical side of the games, as I do the coding and some of the graphics as well.
Production of the games takes quite a long time to produce from inception to graphics to coding to beta-testing and more. A game can take anywhere between 50-100 hours to finish, and even then we tweak programs after hearing from you to add something in or correct a fault.
Both Dan and I have had alot going on lately with our REAL lives, which has meant our computer time has been limited to an hour here, two there, etc. And believe it or not, we are still in the very BASIC stages of learning the powerful computer language of FLASH. This causes many 'trial and error' runs at programming the game, and getting each component to act the right way without glitch to the others.
In essence, this is half an apology to our fans for not having new games coming out as fast as we would like to bring them to you, but the other half being a "Please Understand" why our production IS so slow.
Keep On Playing!
Christopher Colbourne
CdC ProductionS
---
DISCLAIMER
All games featured on this website are copyrighted by their respected owners. These games are made solely for entertaiment purposes only. No challenge to legal ownership is implied, nor intended. The webhost will not be held responsible for any legal problems as a result of any copyright infringements or violations. Any use of the material on this website without the expressed written consent of CdC ProductionS is strictly prohibited.